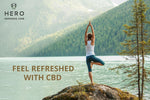 Feel Refreshed with CBN Gummies
CBN Gummies
You often hear that CBD helps you sleep, but did you know that CBN may also help you start your day refreshed and ready to go? Sleeping pills claim they give you a good night's sleep, but most leave you feeling groggy and restless the morning after. That's why we created our CBN Gummies for bedtime. Our Hero Brands CBN Gummies consist of a special bedtime blend that combines CBD, CBN, Raw Honey and Chamomile Extracts to assure you have a solid night's rest.
What is CBN?
While we've discussed CBD a lot within our blog, we have yet to discuss cannabinol. Cannabinol, also referred to as CBN, is a cannabinoid that has untapped potential as a sedative and sleep aid, without a distorted feeling. It helps contribute to a deep REM-sleep and does not give you the general daze that THC does. We like to refer to CBN as an aged CBD, quite similar to how someone would differentiate fine wines and bourbon. Depending on how your body responds, it could help you chill out after a long day, loosen up for a social outing, and allow you to get a well rested night of sleep.
In 1975 a study suggested that CBN is a sedative when combined with a certain level of tetrahydrocannabinol products. As mentioned above, CBN an aged CBD for sleep which is why it is more prominent in old cannabis flower. Studied have shown that after being exposed to air for long periods of time, tetrahydrocannabinolic acid (THCA) turns into CBN. Anecdotal evidence suggests that aged cannabis tends to make people sleepy, which could explain why some people associated CBN with more sedating effects.
A few years later a study was released in 2014 that looked at four patients with Parkinson's disease, it found that CBD improved the symptoms of REM sleep behavior disorder (RBD), a disorder in which a person acts out their dreams -- RBD is associated with poor sleep and nightmares. 
What makes our CBN Gummies Unique?
It's simple. Our bedtime blend combines:
CBN
CBD
Chamomile
Raw honey
All four of these ingredients may have properties that aid sleep. Honey helps your brain release melatonin and gives our gummies its sweet flavor. Chamomile has unique properties that may benefit the quality of your sleep as well. It contains apigenin, an antioxidant that binds to certain receptors in your brain that may promote sleepiness and reduce insomnia, or the chronic inability to sleep.
It is imperative to us and our plants over pills mission to choose holistic additives to combined with our hemp products. It took a while but we are truly proud of our CBN Gummies, and couldn't ask for a more delicious bedtime remedy to ensure a calm, deep and blissful sleep.
Ready to try? Enjoy 25% off on us by using code HERO25 at check out.