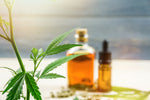 Should You Choose CBD Capsules or CBD Oil?
Did you know that an estimated 14% of Americans regularly use CBD? Considering the many potential benefits of using this substance, it shouldn't come as a surprise.
However, a large portion of the population still hasn't tried CBD. For some people, this is because of access, but for many, it's because they're overwhelmed by all the different products.
When it comes to CBD products, two of the most popular ones include oil and capsules. So which one should you consider trying: CBD capsules vs oil?
In this guide, we'll break down some of the pros and cons associated with each of them. That way, you can decide for yourself which option is best for you.
What Is CBD Oil?
CBD oil is a type of oil that's extracted from hemp plants. Hemp plants, though part of the cannabis family, contain high levels of CBD with little to no THC (the compound in cannabis that gets you high).
There are multiple extraction types for CBD oil. However, the gold standard tends to be CO2 extraction. It's important to remember that there are three main types of CBD oil: full spectrum, broad spectrum, and CBD isolate.
Full-spectrum CBD oil contains all of the cannabis compounds found in hemp, including trace amounts of THC. However, by law CBD oils can't contain more than .03% THC. Why include these cannabinoids?
Because the Entourage Effect theorizes that this makes CBD products more effective.
Broad-spectrum CBD oil contains all the cannabinoids found in the cannabis plant except for THC. Lastly, CBD isolates contain just CBD. No other cannabinoids are present.
Pros of CBD Oil
The biggest benefit of CBD oil is how quickly it works. You can take this oil sublingually by placing it under your tongue for a minute.
The blood vessels in the mouth absorb it, which means you can usually feel some effects of sublingual CBD in thirty minutes or less.
Some people also like CBD oil because it allows them to control their doses more carefully when they're just starting. Lastly, it's versatile. You can take it orally. Or, you can add it to your food or drinks.
Cons of CBD Oil
The biggest con of CBD oil for most people is the taste. The oil tends to have an earthy taste similar to cannabis. So if you don't like this, you might want to avoid it.
What's more, it can be confusing when you're first trying to understand the doses of CBD tinctures.
While the effects of CBD oil might come more quickly, they don't last as long. Lastly, CBD oil doesn't travel well. So if you want to take it with you, it's recommended to try a different option.
What Are CBD Capsules?
CBD capsules contain the same oil we talked about in the last section. The only difference is that they come in dissolvable CBD softgels. This gives CBD capsules a tasteless and convenient experience compared to oil.
Pros of CBD Capsules
The pro of capsules is their convenience. There's no need to measure out a specific CBD oil dose. You know exactly what you're getting in each capsule. There's also no taste or unpleasant sensations associated with taking them.
All you need to do is swallow the capsule. And while it takes CBD capsules a while to hit, their effects tend to last longer. Lastly, CBD capsules are great for traveling.
Because they're in pill form, they cannot spill. And you can keep them with any other vitamins or medications you might be taking.
Cons of CBD Capsules
As we mentioned, it takes a lot longer for you to feel the effects of CBD. In some cases, depending on how full your stomach is, it might take between one to two hours.
The other problem with capsules is their bioavailability. CBD capsules need to reach your liver before your body can absorb them. During that time, CBD products lose a lot of their potency.
One study found that only 6% of the product is bioavailable for absorption by the time it hits your liver. So, it's not the most efficient way of getting CBD in your bloodstream.
CBD Capsules vs Oil: Which Ones Should You Choose?
Still can't decide whether CBD capsules or oil is right for you? If you're having trouble picking, we recommend considering four main factors. First, what are your goals with CBD?
If you're looking for fast pain relief, sublingual oil can deliver the substance more quickly to your bloodstream. Capsules will take longer to feel the effects.
And, as we mentioned, low bioavailability through this method means you won't absorb all of it. However, that's not the case when you choose our 20x stronger absorption capsules.
The next consideration is dosage. Dosing with a tincture of oil can be a little confusing for some people. Capsules are much better at figuring out the specific dose you want from your product.
Third, how long do you want the effects of CBD to last? Capsules take longer to hit but also last a few hours longer than CBD oil. Lastly, consider the taste. CBD oil comes with a strong hemp flavor that some people might not like.
If the taste bothers you, then capsules are a great way to get the potential benefits without subjecting yourself to the taste.
Looking for Quality CBD Products? Shop With Hero Brands
We hope this guide helped you learn more about the differences between CBD capsules vs oil. As you can see, there's no right or wrong choice between the two.
Ultimately, it comes down to your specific personal preferences. Just make sure you go with a brand that prioritizes product quality.
For example, here at Hero Brands, we're passionate about powerful plant-based alternatives to traditional painkillers.
And we don't just offer capsules and oil. We also provide gummies and topical products as well. Explore our full collection today!