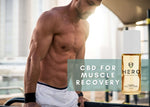 When Should I Take CBD Muscle Recovery Supplements?
CBD Muscle Recovery
Everyone has been in the moment, when they're training hard or doing a strenuous activity, where they suddenly realized how sore they were going to be for the next day, and in most cases few days. Or you could be that father at little league practice throwing batting practice and bam! You realize how sore your arm is going to be.
Because of Cannabidiol, otherwise known as CBD, muscle recovery doesn't have to be a long dragged out process. Whether you're an athlete in training, an avid gym goer, a homeowner doing yard work, or just feeling the affects of older age, CBD muscle recovery will come into play. 
CBD from a tested, high-quality source can assist in reducing inflammation in the body. CBD is also an anti-inflammatory, antioxidative, antiemetic, antipsychotic, and neuroprotective. 
CBD is one of more than 100 chemical compounds found in the cannabis plant. Even though CBD is closely related to THC, or tetrahydrocannabinol, the compound found in cannabis that produces the "high" feeling and is psychoactive, CBD is not psychoactive.
Even though CBD is a small variant away from being the same as THC on a structural level, it has some very distinguishable differences. Even if you tried really hard, there is no way to get high from CBD. Research shows it actually reduces cravings and withdrawal effects of marijuana and mitigates some of the psychoactive properties of THC.
CBD Pre Workout and Post Workout
Typically, when people think about using CBD muscle recovery supplements, they think about using it as a post workout supplement. However, research has been done and there has been many testimonials supporting CBD as a supplement you can benefit from taking before the court, the gym, field, or pool. It can give a natural boost to performance and improves concentration. Finding the right product and right dosage for you is key in getting the most out of your CBD muscle recovery experience. 
CBD For The Endocannabinoid System
CBD has a direct relationship to the endocannabinoid system: a major, regulatory network in the body that can help aid in muscle recovery. By supporting the endocannabinoid system, CBD can help the body's functions run more efficiently. CBD can replenish compounds in this system and help ensure immune function (anti-inflammation), metabolism, energy balance, concentration, coordination, and other important functions are balanced and fully supported.
CBD Muscle Recovery: Anti-Inflammatory 
When people think of muscle recovery, they think of anti-inflammation, and that is just what CBD specializes in. CBD oil is believed to be one of the best anti-inflammatory supplements available on the market today. CBD allows muscles to heal faster and get stronger than what alternative products allow. 
Is CBD Safe
You have to make sure you find a trusted source for CBD. When CBD is certified and free of contaminants, it is safe to use. Always ensure that you are using a quality source that is GMP compliant, and follows standard lab protocols for nutrition supplements. 
Respectable companies and brands will provide a Certificate of Analysis (COA) from a third-party testing laboratory. This is important not only for quality reasons but for how you utilize and dose the specific product. . With trusted source, you don't have to worry about false information.
CBD Dosage 
Every person is different when it comes to consuming cannabis, and in this case CBD. Dosing will be different from person to person and that can change along the way also. A nice therapeutic dosage will be closer to 1500mg for one to feel some noticeable effects.   
One rule of thumb is 1-6 milligrams of CBD for every 10 pounds of body weight. The exact amount moves within that range based on pain levels, which might vary pre-workout and post-workout. You can very well start low and go slow to see what the minimum dosage is for you to achieve pain relief.
 Everyone is different in with their workout, metabolism, body weight, diet and age. This means that there is no exact specification to determine the right CBD dosage for you.  
At Hero we suggest you try the DMSO Roll On and here's why. Our Hero CBD and DMSO Roll On is a proprietary formula, containing Dimethyl Sulfoxide (DMSO) and Hemp Oil.
The reason for DMSO uses centers around its unrivaled ability to penetrate the skin, act as an anti inflammatory, and to act as a carrier or delivery system for any substance into the bloodstream, in this case Hemp Oil, which allows for more bioavailability in the body.
Is CBD Right For Me?
If you are taking any other medications, consult with your doctor first if you are considering taking CBD for the first time. 
There is still so much to learn with CBD, so there is still some cleaning up to do in the market. But for the most part CBD is becoming widely accepted and is now safe to buy across the United States. The World Anti-Doping Agency (WADA) has even removed CBD from its prohibited substance list, so professional athletes can use CBD as part of the program.
In conclusion, research is increasingly showing that CBD muscle recovery can be effective as part of your regimen, both pre workout and post workout, as well as provide a host of other benefits for your physical and mental health and overall well-being.