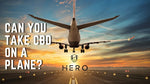 Can you take CBD on a plane?
Traveling With CBD
You see CBD everywhere nowadays. There's no doubt that tons of people are using CBD products on a regular basis. But if you're getting ready to travel, you probably want to know if you can fly with CBD. So what are the CBD rules and regulations? Can you take CBD on a plane? 
The great news is the Transportation Security Administration (TSA) has already given the green light when it comes to traveling with CBD. You'll see exactly how they phrase below. 
The rules are pretty simple with domestic travel, but international travel is a bit tricky. 
Here are some answers to some common questions about flying with CBD.
Can You Fly With CBD In The US?
There are a few exceptions though that we'll get into shortly, but the reality is that yes, you can fly throughout the US with CBD.
The TSA says as much on their website: 
"Marijuana and certain cannabis infused products, including some Cannabidiol (CBD) oil, remain illegal under federal law except for products that contain no more than 0.3 THC on a dry weight basis or that are approved by FDA."
What does that mean?
CBD oil, including the CBD and Delta 8 products sold by Hero, must contain less than 0.3% THC. THC is the compound found in cannabis that produces psychoactive effects. Levels under 0.3% are generally too low for someone to feel. 
Any products that fit this description, including Hero Brands, can legally be carried through the TSA screenings you'll find at US airports.
Now here's a scenario: You're boarding the plane, you've passed through the checkpoints at the airport, and you know for a fact that carrying CBD falls within your states laws. But you didn't think of the state that you were traveling to, and if it's legal there. Didn't the 2018 Farm Bill make it legal to have CBD anywhere in the country? Unfortunately not.
Are you traveling to Idaho, Nebraska, or South Dakota? If so, bring CBD at your own risk. These states declare any recreational CBD to be illegal, so traveling with it could put you in a situation where you'd have to pay a fine, or worse. 
Of course, most of the states it's legal to have CBD, and they don't mind you taking these plant-based alternatives onto a plane and going somewhere else. You may be able to get through their airport without any trouble, but the safer (and more legal) plan is to just not bring any illegal substances into those states.
It's a different story if you want to fly internationally.
It's Legal To Take CBD On A Plane, But You May Get Hassled 
In 2019, the government agency announced: "TSA officers DO NOT search for marijuana or other illegal drugs … But in the event a substance appears to be marijuana or a cannabis infused product, we're required by federal law to notify law enforcement." 
If the TSA is saying it's legal, the TSA agents should know the law. But what happens when a lot of people should know something? Some of them don't. So it's best to be prepared for a little extra scrutiny.
Want to take CBD on a plane and not get hassled? Fly with the right kind of CBD. (Keep on reading)
What Are Some Of The Best CBD Products to Travel With?
CBN Gummies and CBD Capsules, are great travel options. They're not liquid, which the TSA is notoriously strict about. 
One of the most important things to keep in mind, is that you need to make sure to keep products in their original packaging. That way you'll be able to clearly and easily identify what you're carrying. 
Can You Fly With CBD Internationally?
To no surprise, every country has different rules and regulations. CBD is illegal in many places around the world, from Belarus to Bolivia. Several countries that allow you to fly with CBD usually have THC level requirements that don't match the US requirements of 0.3%. General EU law requires consumable CBD to have a level below 0.2%, but some European countries go even further. Norway and France, for example, permit only CBD isolate, meaning a THC level of 0%.
We at Hero recommend you doing your research on the country you plan on traveling to outside of the US. 
You may not always be safe if you're flying into the US. In 2019, a 71-year-old grandmother heading home from Mexico and passed through Dallas/FT Worth International Airport and was arrested for traveling with CBD and given a felony drug charge. She spent two nights in the airport jail. At the time, customs officials said laws permitting CBD were still in the process of being implemented. 
Now that we're in 2021, that should never happen again, however, just because something is legal doesn't mean TSA agents and customs officials won't give you a hard time.
Make Sure Your CBD Products Are Legal Before Traveling
Since the FDA is dragging its feet when it comes to regulating the CBD market, its wise to do your due diligence. Even if a company tells you there's no THC in their CBD products, it's worth checking the lab reports to make sure. These reports don't come cheap, so vendors that provide them are usually more likely to be trusted than ones that don't.
A Certificate of Analysis, or a lab report, will give an exact breakdown of the amounts of CBD, THC, and other cannabinoids in your product. Some will even give you an idea of whether or not the hemp was grown with any synthetic fertilizers or pesticides—all of which can make for a less effective product.
It's important to make note that not all labs offer the same level of accuracy in their testing. Some equipment carries a higher margin of error than others. 
So how can you tell which brands offer accurate results about their products?
One good rule of thumb is to avoid the cheapest products you find on Amazon or in a rough looking smoke shop. These vendors usually don't care about the quality of their products. And in some cases, the products they sell don't even contain real CBD.
It's important to find an established vendor like Hero Brands, that is fully transparent about the quality of their products and offers quality COA's to back it up.  
The Best CBD Products To Travel With
Now that you know what can and can't be brought on a plane let's talk about the best CBD products to bring with you while traveling:
Do you suffer from occasional anxiety?

 

It's not uncommon to be anxious about flying, or traveling in general, which requires leaving home and routine behind. Our Hero CBD Capsules are a great choice. 
Do you have trouble sleeping?

 

Jet lag messes with all of us. But even if you're in your normal time zone, the experience of sleeping in a different bed, hearing different noises, or dealing with an unaccustomed amount of light in the room, can affect your sleep when you're on the road. Consider our Hero CBN Gummies, which we pair CBD, CBN, raw honey, and chamomile.
Do you suffer from pain associated with arthritis or back problems?

 

Sitting in an airplane for a long flight, sleeping in a different bed, and doing things you don't usually do (walking all over a city, for instance), can exacerbate pain. Try our Hero DMSO Roll On thats paired with 1500mg of Full Spectrum CBD, Arnica, Turmeric, Glutathione, Eucalyptus and MCT Oil.
Straight From TSA On Taking CBD On A Plane
Carry On Bags:

 
Yes (Special Instructions)
Checked Bags:

 
Yes (Special Instructions) 
Cannabis and certain cannabis infused products, including some Cannabidiol (CBD) oil, remain illegal under federal law except for products that contain no more than 0.3 percent THC on a dry weight basis or that are approved by FDA. (See the Agriculture Improvement Act of 2018, Pub. L. 115-334.)  TSA officers are required to report any suspected violations of law to local, state or federal authorities. 
TSA's screening procedures are focused on security and are designed to detect potential threats to aviation and passengers. Accordingly, TSA security officers do not search for marijuana or other illegal drugs, but if any illegal substance is discovered during security screening, TSA will refer the matter to a law enforcement officer. 
Conclusion
Can you take CBD on a plane? We at Hero Brands hope we shed enough light on the topic and gave you enough good information to help you make the right decisions moving forward. If you ever have any questions, just reach out to us here.