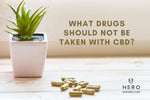 What Drugs Should not be Taken With CBD?
Do you know what drugs should not be taken with CBD?
We have known for some time now that medications can interact inside your body with supplements if you take them at the same time. Every single time you go into the doctor's office, they ask you what medications you are taking for a reason.
They aren't just being nosey, the doctor actually needs to know if a medication they prescribe you will have a negative interaction with that medication you are already taking. That's why it is important to always be very clear with your doctor about everything you take! Even over-the-counter medications and supplements can produce unpredictable, harmful effects when mixed with the wrong drug in your system.
CBD is still fairly new to the world, and what drugs should not be taken with CBD is an ongoing discovery.
What is CBD?
CBD is short for cannabidiol, one of over 100 chemicals known as cannabinoids found in cannabis plants. It is found in all cannabis plants, including industrial hemp and the two strains of marijuana, cannabis sativa and cannabis indica. Depending on the strain, people can consume a significant amount of CBD when they consume cannabis. In most strains, you'll find more THC than CBD, which is known for its psychoactive properties that cause the cannabis "high".
Unlike THC, CBD is not a psychoactive substance, it creates no "high."