What customers are saying about us
Our Reviews
I have been using the DMSO roll on for my frozen shoulder and arthritis for over six months now and it has helped me tremendously. My own orthopedic surgeon highly recommended this brand to ease my pain. I also started looking at other products the Hero brand carry. I needed a product that would help me fall asleep and stay asleep.I can't stress enough how much the Delta 8 gummies have helped me. I no longer have to rely on prescription medication!! Thank you Hero Brands!!

Slauka B.

The Hero Brands products that I used have been great. I used the CBD Roll On for my low back and it really helped relieve soreness that I felt from lifting weights. Recently, I tried the Delta-8 Gummies and it was one of my favorites. The relaxation that I felt from the gummies was on point. It helped me fall into a deep sleep. I would highly recommend trying these products!

Kurt H.

The thing that caught my attention about Hero a year ago was an Instagram post about using the Hero Hemp/DMSO roll on on knees for leg day. At 45, I'm very active and have been a gym rat for 25 years, played football, coach football now, blah blah blah. Suffice it to say, my knees ache and get inflamed so I thought what the heck. I tried it and now it is a part of my world. Not just knees, but golfers elbow, tennis elbow, any tendinitis, neck and shoulder inflammation, back, ankles, you name it. It works and you don't walk around smelling like Icy Hot. Get it. Use it. You'll never not have it once you do.

Mark F.
Strong pairings make a difference
CBD & Delta 8 Bundles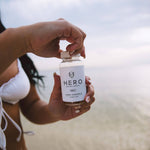 New and improved!
CBN Gummies
We've upgraded our Honey Chamomile CBN Gummies! They NOW contain 15mg of CBD and 5mg of CBN per gummy!
See our new CBN Gummies
It's important to build strong relationships
Hero Partners