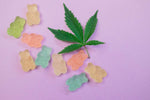 6 CBD Gummy Buying Mistakes and How to Avoid Them
Many people know that the market for cannabis products has been exploding in recent years as more and more places legalize them. However, many people are shocked when they find out that there is enough demand worldwide just for CBD gummies to generate over $1.6 billion in revenue each year. This market is expected to grow by more than 30% each year between 2021 and 2028.
Although it might sound incredible, that rate of growth is fast enough for the entire market to grow eight times larger in only eight years! CBD gummy buying mistakes are also growing as more and more people participate in the market. People often commit the same few mistakes that keep them from finding the best CBD gummies for them.
Learning to avoid these mistakes can help you find the gummies that will provide the most value for you. So what are some common CBD gummy buying mistakes, and how can you avoid them?
Read on to learn all about the most common mistakes people make when buying CBD gummies!
1. Ignoring Third-Party Testing
Many people make the mistake of trusting companies to attest to the quality of their own CBD gummy products. No matter how confidently a company talks about its products, remember that the companies with the best products aren't just willing to subject their products to tests from third parties; they are excited to do so because they expect to pass with flying colors.
If a company does not have a third party test its products, it is much safer for you to put them aside and focus on the companies that pass third-party tests. That way, you can be confident that you are getting what you think you are when you buy CBD gummies.
2. Not Looking at Online Customer Reviews
There is a gold mine of information waiting for you in the reviews that past customers have given CBD gummy companies. At a glance, you can find out if a company tends to disappoint its customers or satisfy them. By reading through their reviews, you can also learn what it is that makes people love certain companies so much.
Looking at ratings and reviews is also a great way to help you choose between your possible CBD gummy companies. With so many options out there to choose between, it can be invaluable to have such an efficient way to assess your options.
Many of these same principles also apply to the individual products that each company sells. If you are buying products from a company for the first time, you might want to make a point of buying products that have the most positive reviews from other customers. After all, if everyone else loves a specific product at a specific company, there is a good chance that you will, too.
3. Buying Products With Unclear Strengths
Some companies do not even bother to give precise labels to their CBD gummies. That means that you will never know exactly how much CBD you are ingesting when you use them. This is a bad sign in at least two different ways.
First, it suggests that a company is not paying much attention to detail. If they are cutting corners on something as basic as measuring the CBD in their gummies, it is possible that they are also cutting corners in other ways that might matter even more.
Of course, the other problem with this is that it makes it almost impossible for you to understand how your body responds to specific quantities of CBD. When you know exactly how much you are ingesting, you can observe the effect that it has on you. That can help you make the best decisions for you about how much CBD to ingest at a given time.
4. Ignoring Different CBD Gummy Ingredients
CBD gummies contain one of three kinds of CBD. They are CBD isolate extract, broad-spectrum hemp extract, and full-spectrum hemp extract. All of these have different effects, so it is important to choose the type of gummy that provides the effects you are looking for.
Full-spectrum hemp extract contains a tiny amount of THC. It also contains all other natural hemp compounds.
Broad spectrum hemp extract is the same, but with a tiny amount of THC removed. CBD isolate extract contains only CBD, with all other cannabinoids absent.
5. Buying CBD Gummies Online With Poor Packaging
Packaging is a helpful indicator of the conscientiousness of a CBD gummy company. If you buy gummies from a company and they show up in shoddy packaging, you might want to take that as a sign that you should switch to another company. That goes double if the packaging fails to create a perfect seal that maintains the freshness of your gummies.
6. Not Comparing CBD Gummy Prices
Many people have no idea that they are paying way more for CBD gummies than they need to. Make sure to look at prices for a variety of products at a variety of companies so that you know you are getting a good deal.
Avoid the Most Common CBD Gummy Buying Mistakes
Learning about the most common CBD gummy buying mistakes can help you find the best gummies for you. It is easy to follow the same patterns over and over again and never even notice the value you are leaving on the table by not finding better CBD gummies for you. Mixing up your patterns and trying new gummies is the best way to discover what you might be missing.
To learn more about how to find the best CBD gummies for you, reach out and get in touch with us here at any time!